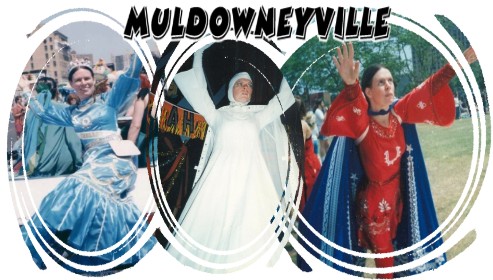 Latest News Profile Writings Artwork Booking Schedule Links Email
Character Galleries Message Board Guest Book Chat Room

U-30 Day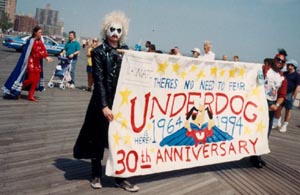 in October 1994 The Underdog Fan Club got together for a big party in New York City where we watched some Underdog episodes, Suzanne danced, and we generally ate and made merry! Here are some excerpts of that glorious time! Our next event will be October 2004 where we celebrate underdog's 40th! (The above photo is from 1994's Coney Island Mermaid Parade.)
The UFC Representing

Sue Acting out
"Pain Strikes Underdog"

Sue and Roxy the local cat.

Phil & Cherish as Shoeshine Boy & Sweet Polly Purebred

Joe Macho & Suzanne acting out a scene of "Go Snow" (Suzannes favorite episode) where Simon Bar Sinister and Underdog battle it out.

Sue Re-enacting a tense moment of "Go Snow"