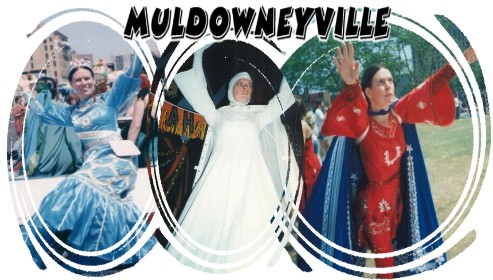 GUIDELINES FOR THE FUTURE

It has been stated again and again that the Underdog character must be showcased in a dignified manner if he is to be appreciated in the future.

It is quite unlikely a new TV series will develop, unlike the cases of other popular characters that have been syndicated, given new series, or sporadic comebacks. Costumes, makeup, and especially posture must be careful to avoid duplicating unflattering elements in animation
Some other methods of showcasing popular fictional characters are as follows:
*Charitable fundraisers, public family outings, and block parties have character impersonators mingle with the patrons and/or give a feature presentation in the course of the activities.
*Involving character impersonators in staged games, athletic competition of sorts. Periodically there are televised games or pageants, Star games, Battle at the Network Stars, Circus of the Stars, involving celebrities in big-scale games or spectacles. (1)
*Public-service messages on health, safety, or overall well-being are sometimes conveyed on TV by a popular fictional hero or villain. (2)
*Costuming or impersonation contests, very much like the Masquerades held in science-fiction conventions. Impersonation contests might be called Look-alike Contests if only one theme is desired. Contestants would be expected to get into character as much as possible; steps must also be taken to prevent disruptive behavior by spectators or other contestants. (3)
*Acting out plays to pre-prepared material by interested parties. Performers must be careful not to disgrace themselves or their characters; if they think their characters must look and act exactly like their cartoon equivalents, such attitudes are sad mistakes, since live acting is another art form, different from animated cartoons. Moreover, conscientious work is necessary for a well-done performance. (4)
These guidelines should help in showcasing Underdog appropriately in his 40th Anniversary year and subsequent years to come whenever and wherever desired.

Appendix
(1) As Underdog in games like these, I can run short distances, balance uprightly on a narrow surface, and perform "theatrical" sports like Figure-Jogging and Spotlight Spacewalk.
(2) In the old days, I wish I could have done these as Underdog, with proper serious attitude.
(3) In August 1988 I was in a Superman Lookalike Contest. When it was my turn to be judged as Supergirl, I was intruded upon and mocked by one of the men contestants, who had to be chased away.
(4) I mentioned the Live Play as an occasional sci-fi convention event. I once tried to direct a scene from a famous horror movie. But there were no tryouts or auditions to determine cast. The worst of it was that the attendees who chose to participate refused to get serious about the job; they merely wanted to frolic. They wrongfully stated I was an overbearing director and deserted me. The heads of Creation forbade me ever to direct again unless a loyal group backed me up and had a presentation ready; I have always been a loner!