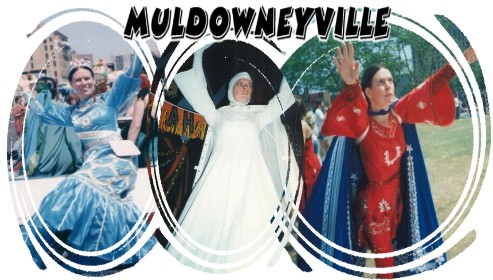 Latest News Profile Writings Artwork Booking Schedule Links Email
Character Galleries Message Board Guest Book Chat Room


In '88, when I first began appearing publicly in Ocean City, NJ (that was Supergirl's year due to Superman's 50th), I saw that the town had a couple of fictional character mascots, the brainchildren of the town's own Public Relations Director (!). The PR Director himself took on the role of one of these mascots --"Trash Buster," an anti-litter crusader. Whereas Trash Buster was not strictly a maritime character, and the other mascot (a mollusk) fit the setting better, there was no mermaid mascot. I wanted to institute a mermaid, but hesitated since I wouldn't know how to convey myself with my feet encased, as in a sleeping bag, by a costume tail. It wasn't until either '89 or '90 that I found my solution. Inside a fabric store was a photo of a bridal gown, narrow skirted with a big ruffled flounce at the hemline; the wearer's feet were free for normal walking. Because the bottom ruffle was termed a fish tail, the design seemed custom-made.
I did not get the green light until '93 from the PR Director to start developing the mermaid mascot. If she was going to be called just "the Mermaid," I insisted her name should start with an M, for alliterative purposes. Then the director decided-she should not represent just Ocean City, but the entire shoreline from Brigantine just above Atlantic City down to Cape May, the southernmost Jersey town. Thus her gown color had to be general watery Aqua or Turquoise rather than the Royal Blue and white of Ocean City.
Since this territory of the state was termed "Southern Shore" in travel folders, the mermaid would have to have a name starting with. "Sandy" "'as ruled out since beach sand is a dullish tan color when we had decided on aquatic colors. Then the director hit upon "Shelley" in remembering a few movie actresses of that name. 1 then emphasized "South Jersey Shore" as definition of the territory rather than "Southern Shore" lest some visitors from the Deep South--Virginia to Florida be present at the events and think the character represented that area.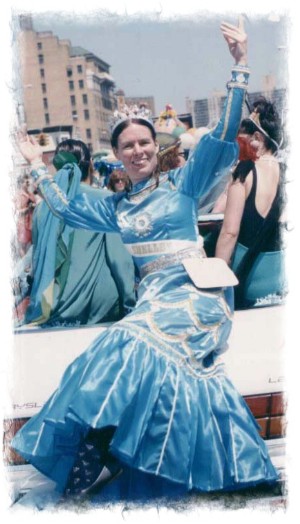 Next: Sunny Suzy The Summer Sunshine Mermaid

Underdog Spectrum The Ghost King Vlad The Impaler / Dracula
Mermaids Supergirl Catwoman Figure Jogger Irish Cinderella