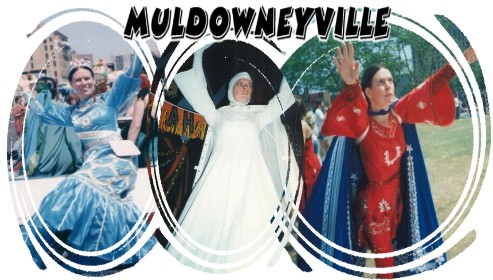 Latest News Profile Writings Artwork Booking Schedule Links Email
Character Galleries


Suzanne received one of her major breaks into stardom through the NYC based Beyond Vaudville Show, a top rate award winning variety/ interview program hosted by Frank Hope & David Greene that ran bi-weekly on both Paragon and Time Warner Cable it eventually was picked up by Mtv as Mtv Oddville. Beyond Vaudeville has guested Ms. Muldowney numerous times Including on their live shows.
I am happy to report Beyond Vaudeville has a myspace page!
http://www.myspace.com/beyondvaudeville
| | | |
| --- | --- | --- |
| | | |
| Frank Hope | David Greene | Joey, The Dancing Monkey |
In an interview with host Mr. Frank Hope, he was delighted to know that both Underdog and Ms. Muldowney were receiving the attention and recognition they so rightly deserve. Quote Mr. Hope "We first got to know of Suzanne from her appearances at the at the Creation Science Fiction Conventions and have long since considered her to be one of the finest performers In the Beyond Vaudeville family. Her dedication and her professionalism is unparalleled."
Mr. Hope was also kind enough to share all of Ms. Muldowney's T. V. appearances with us (including her appearances on the live shows). Thanks Frank!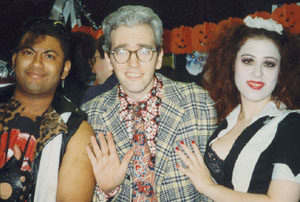 Frank Hope with of Rocky Horror Picture Show

SUZANNE'S BEYOND VAUDEVILLE STAGE SHOW APPEARANCES
BV 5 at New York University
Guest Host Danny Bonaduce
April 30, 1986 .
In her first BEYOND Vaudeville stage appearance, Suzanne performs as Underdog and receives standing ovation.
BV 6 at NYU
Guest Host AI Lewis
April 20, 1987
In what was to become a rare non-Underdog performance by Suzanne at a BEYOND Vaudeville stage show, she appears as Vlad the Impaler. The dance climaxes with Vlad's intense transformation into a vampire.

BV 7 at NYU
Guest Host Adam West
April 15th 1988
Suzanne appears as Supergirl in honor of her cousins Superman's 50th [Golden] anniversary. She made a dramatic entrance by running down the aisle from the back of the auditorium to the stage, a spotlight guiding her way.
BV 8 at NYU
Guest Hostess Sukhreet Gabel
April1,1989
For the Silver Anniversary of Underdog, Suzanne performs in a magnificent silver cape designed especially for the occasion.
BV 9 at NYU
Guest Hosts Peter Tork and Quentin Crisp
April19,1990
Suzanne appears as Underdog and once again elicits thunderous applause.
BV 10 at Stand Up New York
Guest Host Little Mike Anderson
May 6, 1991
Due to the limited stage space available at the venue, Suzanne performed showcase posing as Underdog.

BV 11 at Caroline's
Guest Host Ron Palillo
May11,1992
In celebration of the Olympics year, Suzanne performs as "Underdog at the Olympics." Upon completion of her performance, three audience members each hold up a "10"
scorecard.
BV 12 at Caroline's
Guest Hostess Barbara Feldon
April 26, 1993
Suzanne introduced BEYOND VAUDEVILLE audiences to a new character,
Catwoman. Props include a cat pillow which she caresses.
BV 13 Caroline's
Guest Host Pat Cooper
October 28th ,1993
Suzanne introduces "Spectrum the Ghost King" a special ghost that presides over ghost dance contests each Halloween.
BV 14 Caroline's
Guest Host Carol Shaya
December 5th ,1994
For Underdog's 30th Anniversary Suzanne performs Underdog
and is also given a special citation from Beyond Vaudville for all her dedication.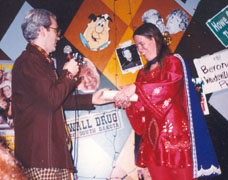 -----
BEYOND VAUDEVILLE TV Show Appearances
Dates are tape dates. Premiere airdates were generally within a week of the taping.
12-9-86
This was the first taping of the BEYOND VAUDEVILLE TV show, and Suzanne was a featured guest. She performed a classic Underdog dance. Other guests included Mason Reese. Recorded at the Paragon Cable Studio on West 219 Street in Manhattan (no longer in operation).
6-6-89.
David Greene filled in for Frank Hope as host of the show and spent a little too much time talking to guest Phoebe Legere and not much time for other guests, including Suzanne. She makes a brief appearance at the end of the show. Also recorded at Paragon Cable Studio.
7-8-89
Suzanne returns to BEYOND VAUDEVILLE and receives the time and attention she deserves. She performs as Underdog in her magnificent silver anniversary cape. Other guests include Roberta Rogow. interestingly enough, has performed some of her "Star Trek" related "filk" songs at the very same Creation Convention costume contests featuring Suzanne. Recorded at ELA Studio on West 59th Street in Manhattan.
7-28-90
Suzanne appears as Vlad the Impaler, recreating her magnificent performance from the BEYOND VAUDEVILLE VI live show. Part of the show is part of this Suzanne Montage you can view here! Other guests on the show include former "Saturday Night Live" cast member Terry Sweeney, BEYOND VAUDEVILLE regular Leslie Holcomb and the president of the Flying Nun Fan Club. Recorded at ELA.
9-17-90
Suzanne appears as Underdog in a special BEYOND VAUDEVILLE episode featured nationally on Comedy Central's "Access America." Other guests include Fred Willard and Yiddish poet Wolf Pasmanik. Recorded at ELA. View a clip here!
8-15-92
Suzanne marks her return to the BEYOND VAUDEVILLE TV show with another splendid performance as Underdog. She also explains why Howard Stern is evil. Recorded at Metro-Access Studios on West 23rd Street in Manhattan. .
There was another episode in 1993 that was filmed after this involving Sue as Underdog and getting into a dispute with Actor, Tom Arnold. She said If she was portraying Vlad the Impaler that day she would have skewered him.
More Beyond Vaudeville Memories
| | | |
| --- | --- | --- |
| | | |
| David Greene Vs. Trayman | Joey & Frank | A candid shot |
With David it's best to avoid eye contact! He might get all Thom Payne up in here! And you don't want that!